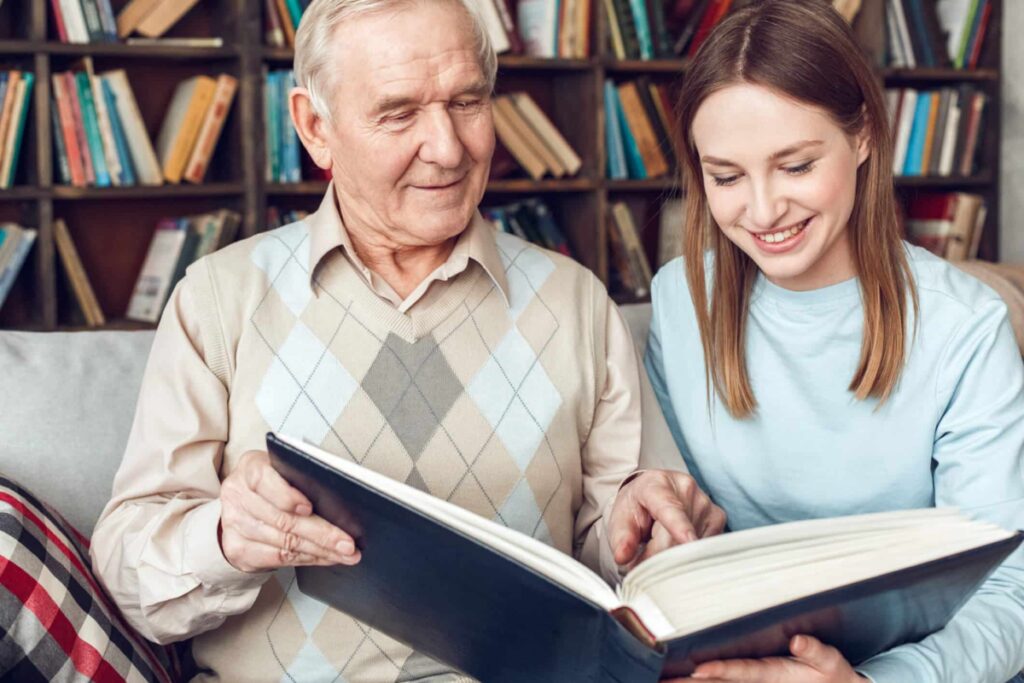 People often fail to understand that a high quality of life is still possible for those living with dementia. However, while providing care at home, it can become more challenging to deliver programs, activities and interaction.
As the disease progresses, families may want to consider other opportunities to help support a meaningful life. Discovering the amenities and services of a memory care community can be the perfect solution to bring enrichment to your loved one's life.
Understanding the services that memory care communities provide
Memory care residents can receive services offered at a stand-alone community or as part of a larger senior living community. In addition, the following amenities and services are typically included:
Accessible residences
Communities designed for security and easy navigation
Assistance with personal care and tasks
Therapy programs and activities
Healthy dining
Fitness and exercise programs
Scheduled trips
Enriching the lives of memory care residents: Harbor Memory Care
At Prairie City Landing's Harbor Memory Care, we provide the following benefits for our residents to live their best lives:
1. A focus on engagement
Harbor Memory Care places a priority on opportunities for engagement. In fact, all of our programs and services are focused on ensuring our memory care residents can interact with others and participate in stimulating activities. This is a primary benefit as research continues to show that remaining connected can slow the symptoms of cognitive decline and improve daily life.
2. Specially trained staff
Our staff is not only trained in the best practices of dementia care, but they are educated and skilled to interact and respond with the residents, wherever they may be in the dementia journey.
Harbor Memory Care provides the type of individual care that tailors our interactions and activities to meet a memory care resident's abilities and preferences. When living with this type of personal care and familiar attention, the life experience is easily heightened.
3. Participation within the larger community
We believe Harbor Memory Care has an advantage over a stand-alone memory care community. We are able to encourage our residents to participate in activities, including recreational and fitness, with those in the larger community.
Our residents thrive because their interactions are enhanced – not limited – by living in a memory care community. For example, they might look forward to meeting a friend in the courtyard for tea or a family member for dinner at one of our restaurants. They enjoy the same experiences as they did before dementia but more in a safe environment and with less stress.
4. Full options for activities and dining
We don't limit the opportunities for our memory care residents based on a dementia diagnosis or because we focus only on providing a safe community. At Harbor Memory Care, we offer full menu selections for our memory care residents and encourage them to join the other residents a few times per week in our common dining venues. We also present a slate of activities and personalize wherever it might be needed so they can successfully enjoy the experience of inclusiveness.
5. No limitations based on assumptions
Some memory care communities offer activities based on a broad assumption of what individuals are capable of when living with dementia. Unfortunately, this limited way of thinking can severely restrict what options their memory care residents may have.
Residents at Harbor Memory Care have access to all of the programs in the larger community. There is no limit or restriction. In fact, we focus on how we can make a certain activity work or an amenity possible.
6. More individualized care
At Harbor Memory Care, we purposely have chosen to limit the number of memory care apartments at 19. We feel strongly that this allows us to offer truly individualized care and attention and provides a more enriching experience for our memory care residents.
We can quickly notice any changes in behavior as well as encourage each individual to participate fully in the day because we genuinely know their personality and preferences.
7. Support for family members
While caring for a loved one at home, the primary caregivers may have found it difficult to take care of themselves or to have any quality time to spend with their loved one. One contributing factor to helping memory care residents live an enriched life in a community is the new role that family can play.
When care is entrusted to Harbor Memory Care, family members can return to their roles as loved ones and enjoy time reminiscing, listening to music or taking a walk together. One of the biggest contributors for enrichment is no doubt a life shared with those loved.
Discover Life at Tenfold's Prairie City Landing 
We created Prairie City Landing to support our residents to live their best life possible. Our community's design, residences, activities and amenities are all focused on assisting them to meet their lifestyle and wellness goals.
From the first moment you visit a Tenfold community, we believe you will immediately recognize what makes us different.
Discover the YUSM lifestyle
We believe the highest quality of life is created when our residents are supported to feel YOUTHFUL, stay USEFUL, be SPONTANEOUS and remain MOBILE. You'll see evidence every day in how our care, services and amenities are all influenced by the strong philosophy we created that we call YUSM.
If you're considering senior living for yourself or a family member, we're here to answer any of your questions and we invite you to download our complimentary guide, Just the Facts: Your Guide to Memory Care.
Please contact us if you'd like more information or to schedule a personalized tour.
We hope you'll visit Prairie City Landing, where you'll discover we're a different style of senior living – and it's all by design.