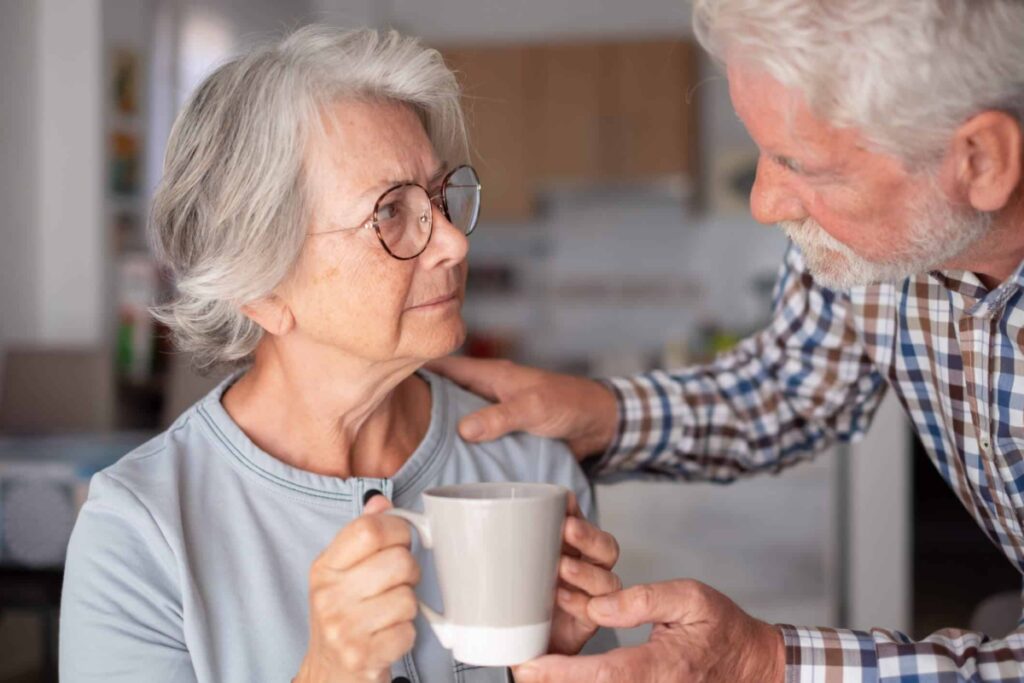 Your family is beginning the search for a memory care community but may be uncertain of how to find the best one. Should you be looking for security? Activities that might slow the symptoms of dementia? Amenities to improve quality of life?
At Prairie City Landing's Harbor Memory Care, we can help with the quest. Knowing which memory care questions to ask can help illustrate both a community's daily life but also their philosophy of care.
Memory Care Questions to Ask
The following questions can help discover a community's basic features, but you'll want to explore a little further to determine how a high-quality lifestyle might be supported:
Question #1: What type of apartments are available?
Ask to see floorplans and tour the residence, or one similar, that your loved one will call home. Discuss possibilities to personalize the space to make it feel comfortable.
Yet, what's more important is how the community will help your loved one feel valued and welcome in their new home.
At Prairie City Landing's Harbor Memory Care, we offer beautiful residences but also promote a sense of belonging through staff engagements and meaningful interactions. We limit the number of memory care apartments to 19 so we can foster relationships and create a genuine atmosphere of family.
Question #2: How well are the residents supported?
Ask what type of assistance your loved one will receive, the training of the staff, and the staff-to-resident ratio so you know how quickly someone can respond to your loved one's needs.
Also essential, however, is how the community will support your loved one to feel seen and heard.
Does the staff spend quality time with the residents, getting to know their preferences and abilities? At Harbor Memory Care, our residents are encouraged to integrate into the larger community and participate in a full range of activities. Our familiarity allows us to see who is having a good or bad day – or to spot residents who are beginning to withdraw and bring them back into the community.
Question #3: What activities are available?
You'll want to know the type of activities offered and whether there are any specialized therapies for the residents, such as art, pet, music or cognitive programs.
But perhaps more importantly is how the community views the capabilities of their residents.
Do they assume limitations and so restrict options? Do they see the resident as someone with cognitive decline or as a whole individual? Harbor Memory Care provides a full calendar of activities and social opportunities, modifying when needed. Our community is vibrant yet flexible to accommodate the needs of our residents.
Question #4: Does the community encourage healthy dining?
Ask to see a copy of the menu and the selections available. Stop by the dining room and if possible, arrange to have your loved one share a meal with the other residents.
Also important? Consider whether your loved one will benefit from an enhanced dining experience.
There is more to mealtime than nutrition – including social interaction and enjoyment. Ask how the community will help your loved one feel comfortable and encouraged to eat. At Harbor Memory Care, residents have a full menu of choices to select from. There are accommodations made for those who find it difficult to sit and eat and opportunities to dine with residents outside of memory care.
Question #5: Is the primary focus only on safety?
There can be increased risks for those living with dementia, such as wandering or becoming lost. Many communities appear to make safety the primary feature and minimize the importance of other elements.
However, you'll want to find a community that provides a safe environment but is also engaging.
At Prairie City Landing's Harbor Memory Care, we place a priority on safety but also recognize there is more to quality of life. We offer our residents the opportunity to enjoy areas where they are discreetly protected but can enjoy freedom of movement. And since we only have 19 memory care apartments, we are easily able to provide off-site field trips or support them to integrate with the larger community.
Discover Life at Tenfold's Prairie City Landing 
We created Prairie City Landing to support our residents to live their best life possible. Our community's design, residences, activities and amenities are all focused on assisting them to meet their lifestyle and wellness goals.
From the first moment you visit a Tenfold community, we believe you will immediately recognize what makes us different.
Discover the YUSM lifestyle
We believe the highest quality of life is created when our residents are supported to feel YOUTHFUL, stay USEFUL, be SPONTANEOUS and remain MOBILE. You'll see evidence every day in how our care, services and amenities are all influenced by the strong philosophy we created that we call YUSM.
If you're considering senior living for yourself or a family member, we're here to answer any of your questions and we invite you to download our complimentary guide, Just the Facts: Your Guide to Memory Care.
Please contact us if you'd like more information or to schedule a personalized tour.
We hope you'll visit Prairie City Landing, where you'll discover we're a different style of senior living – and it's all by design.