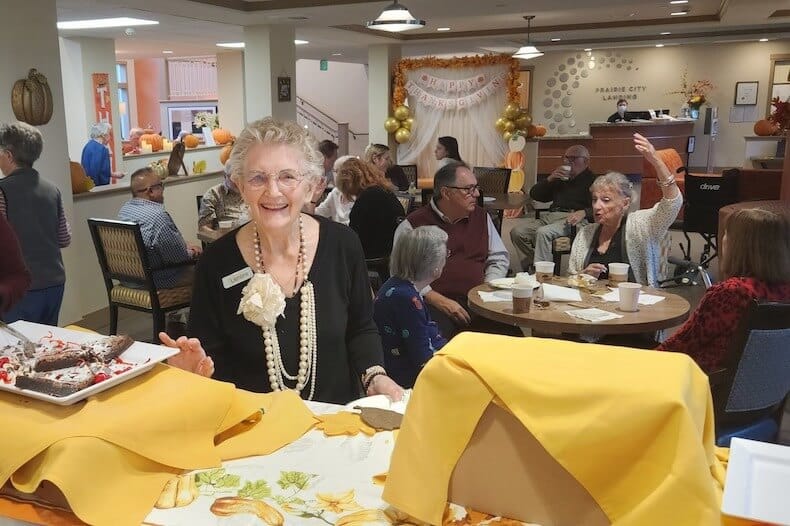 Would you like to get a better idea of how life at a Tenfold Community could change your life? Hear it from someone who knows firsthand.
Meet one of our residents, Lenore Roush, who along with her husband moved into one of our communities to take advantage of the active and maintenance-free lifestyle. After leaving us to be closer to family, Lenore eventually found herself living with a granddaughter after her husband passed away. With the granddaughter and her husband's children of their own, careers and activities, Lenore was somewhat isolated, even though unintentionally.
"The only place I could walk was their cul-de-sac," Lenore says. "But I would look at Facebook and all the activities happening in my old community. They have a fitness center, movies, tours, bus trips and happy hour. Everyone is so friendly."
So she made the decision to come back home. And home was a Tenfold Community.
"I knew I would be happy because now I'm with people. And my friends? We all look out for each other," she says. "You enjoy your home but all you have to do is step outside to see a friendly face. It's so nice having people around."
"The staff are so friendly and there is so much to do. It's not a question of whether there will be an activity I'd like but which one I'm going to choose," she says. "I like to spend time alone in my apartment but I also know there's another whole world waiting for me right outside my door."
It was the right decision for Lenore. And as she says, "I didn't just choose to move here once – but twice."
Why choose a senior living community?
Many people prioritize growing older in their own home. However, they often soon discover that the goal is actually to age and live well. Where that occurs can influence a sense of satisfaction or enrichment.
If you're considering whether senior living or your existing home would provide the type of lifestyle you'd like to achieve, you may be pleasantly surprised at everything a community has to offer.
Not all senior living communities are alike, of course. But Tenfold's Prairie City Landing is a great example of how fulfilling retirement life can truly be.
7 ways life at Prairie City Landing may differ from remaining at home
1. Home is wherever you are, but a great home reflects your lifestyle
Many people hesitate to move into senior living because the spaces are often not only small but merely ordinary. At Prairie City Landing, our residences are beautiful condominium-styled apartments with enough room to accommodate your full-sized dining table and sectional. You won't need to downsize your lifestyle here.
2. Activities and amenities that reach beyond the routine
At Prairie City Landing, we appreciate how stimulating activities can embellish life. We push the envelope when it comes to our offerings and love recommendations from our residents. You might be surprised at what you'll find. Join the others in learning about beekeeping, paddle-boarding or even taking a turn in our kitchen to show our excellent culinary staff how to make strudel.
3. Life enriching friends and staff
Relationships are what give meaning and joy to life. While many older adults find themselves lonely or socially isolated, you won't need to worry if you make Prairie City Landing your home. It's easy to meet and make new friends at our activities, social events or while spending time in our amazing common areas. And our staff make it a priority to support the residents to feel independent and at home.
4. Healthy dining choices
Eating well is essential for good nutrition, physical fitness and cognitive function. But the advantage that Prairie City Landing offers is the benefit of choices. Invite your friends or family to dine and you'll discover three venues and wide menu selections. From a more formal restaurant to a casual bite, we have whatever will suit your mood. And sharing a meal with others also provides the benefit of social interaction.
5. Fitness opportunities to keep in shape
Did you know that by the age of 75, one in three men and one in two women no longer engage in physical activity? But that doesn't apply to our residents. Health problems that arise from a sedentary lifestyle are not a natural progression from aging but result more from personal choice or inaccessibility. We offer a fitness center and the expertise of a full-time fitness director to keep our residents moving.
6. Safety, security and reassurance
When we grow older, we often become more concerned about our safety and security. We may worry about living alone and becoming injured. Our home may no longer be as safe, especially if it's not accessible. But at Prairie City Landing, we have you covered. With community and residence safety features, you'll also have the reassurance of knowing that you're never truly alone.
7. Future assistance without moving
Many older adults hesitate to move into independent living because they don't want to have to move again to assisted living if they begin struggling with daily tasks or need help. At Prairie City Landing, you can enjoy your spacious apartment and all the advantages worry free. If you do need a helping hand down the road, you won't have to move. We provide services discreetly in your own apartment so you can continue living your full life in the community you love.
Discover Life at Tenfold's Prairie City Landing 
We created Prairie City Landing to support our residents to live their best lives possible. Our community's design, residences, activities and amenities are all focused on helping to connect, engage and create an enriched life.
If you're searching for senior living that is different from the rest, we hope you will consider Tenfold's Prairie City Landing. We're here to answer any of your questions. Contact us to speak to an advisor, or schedule your tour of Prairie City Landing today to experience senior living and our community for yourself.
Are you considering a move to a senior living community for yourself or a loved one? Download our free guide, Family Decision Toolkit: Your A–Z Guide To Choosing The Right Senior Living Community.