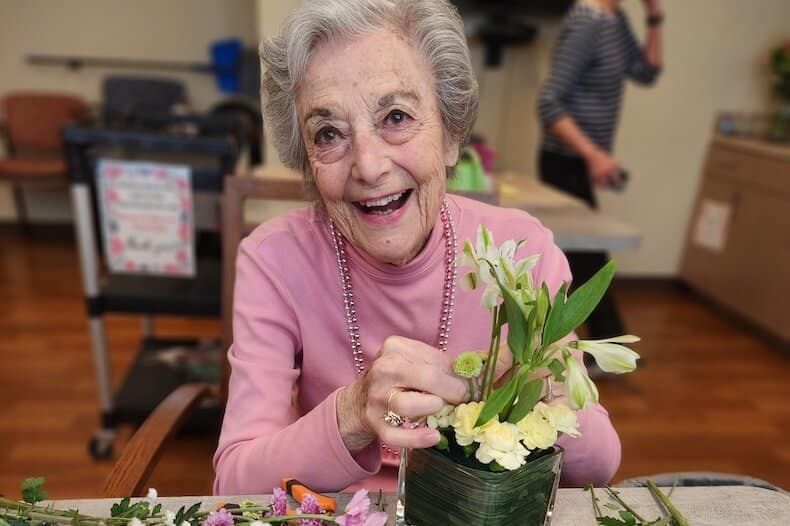 It's not uncommon to need a helping hand as we grow older – possibly to shop and prepare healthy meals, provide assistance with bathing or manage our medications.
If you or a loved one could use help with the daily tasks of life, there is a solution that can also include the type of environment where you will thrive.
At Tenfold's Prairie City Landing, residents can live an independent and enriched life while receiving all the benefits of assisted living.
But with one big difference from the other communities.
Assisted living at Prairie City Landing
Assistant living is typically a residential community that provides an accessible residence, personal assistance, healthy dining, activities and amenities.
At Prairie City Landing, however, our residents live independently in spacious condominium-style apartments. If the day arrives when they need a little help, they don't need to move from the familiarity of their home, neighbors or community.
Instead, we bring the services to them.
Prairie City Landing: where assisted living is a service
Take a moment and imagine yourself living in one of our beautiful homes that you personalized to make your very own. You can host a family dinner at your full-sized dining table or perhaps enjoy meeting friends at one of the three different venues available for meals.
The state-of-the-art fitness center keeps you motivated and you look forward to catching up with your neighbors at happy hour. Our activities are distinctive and you can't wait to tell your grandchildren about your latest adventure.
Now – picture yourself finding it more of a challenge to safely bathe or dress. At another community, you might have to move into assisted living to receive help. But not at Prairie City Landing.
We are a licensed community and offer assisted living as a service, provided by our own team. And the best part? We discreetly offer our services in your apartment so you can remain at home while receiving help from familiar staff members.
At Prairie City Landing, we don't think needing help with daily tasks should result in losing connections to treasured friends or the community. Our residents have built a full and enriched life and would still want to join us on adventures, new activities or traveling to enjoy a unique experience.
They love spending time in our beautifully designed outdoor spaces, whether it's visiting with friends around the firepit in the evening or watching the dogs play in their very own space. We take pride in the specialized services we offer that allow our residents to remain in their homes.
We also provide the perfect solution if you only need additional care services for a shorter amount of time. This works well for those who may be recovering from an illness or injury and need added attention to heal or recover.
Prairie City Landing: different by design
We strongly support our residents to continue achieving full and meaningful lives by offering assisted living as a service. This is only one of the many differences you'll discover that sets us apart from other communities.
But don't just take it from us. Spend a moment with one of our residents, Joan Feldman and listen to what she has to say about life at Prairie City Landing.
"I am really happy here. Everybody knows my name. And it's not just the other residents but the staff too. This is a happy place to live and they make you feel like you're part of the family."
It's intentional that our residents feel like family. Freedom of choice is a cornerstone at Prairie City Landing. Not only is there a wide selection of activities to choose from and three different dining venues, but each individual contributes to daily life.
As an example, Joan talked about making a suggestion to the chef and how a delicious lasagna dinner was served the very next day. "They make you feel like you belong and have a voice and influence," she said.
Joan is also involved with a group of ladies who arrange and place fresh flowers on the white tablecloths in the dining room. Not only does this add a nice and personal touch to everyone's day but it provides her with an opportunity to feel useful and connected to others.
Friends are important at this stage in life, Joan says. "We all have so much in common. Many people our age need to use a walker and may feel embarrassed but you won't here. We make everyone comfortable because every one of us has something that we're going through. We can talk about it with each other," she said.
"We're there if someone needs anything and they're there for you. We also check in on each other. I go down with a good friend every day for dinner. We have a saying – at 4:24 I'll be knocking on your door," Joan said with a laugh.
"We're like neighbors and we look out for each other," said Joan. "We talk to each other about our kids and grandkids just like we did when we were living in our houses. And if we don't see someone, we'll go knock on their door."
Joan also notes how important it is for families to understand personal choices. Not all residents are alike and it's vital to take into account their preferences – even when it comes to the location of their apartment.
"My family thought I would want my view to be of the beautiful landscaping but I said I'd rather be on the other side so I could see people coming and going." At Prairie City Landing, Joan not only has set her sights on what she wants to see but has a great view of the future.
Discover Life at Tenfold's Prairie City Landing 
We created Prairie City Landing to support our residents to live their best lives possible. Our community's design, residences, activities and amenities are all focused on helping to connect, engage and create an enriched life.
If you're searching for senior living that is different from the rest, we hope you will consider Tenfold's Prairie City Landing. We're here to answer any of your questions. Contact us to speak to an advisor, or schedule your tour of Prairie City Landing today to experience senior living and our community for yourself.
Are you considering a move to a senior living community for yourself or a loved one? Download our free guide, Family Decision Toolkit: Your A–Z Guide To Choosing The Right Senior Living Community.