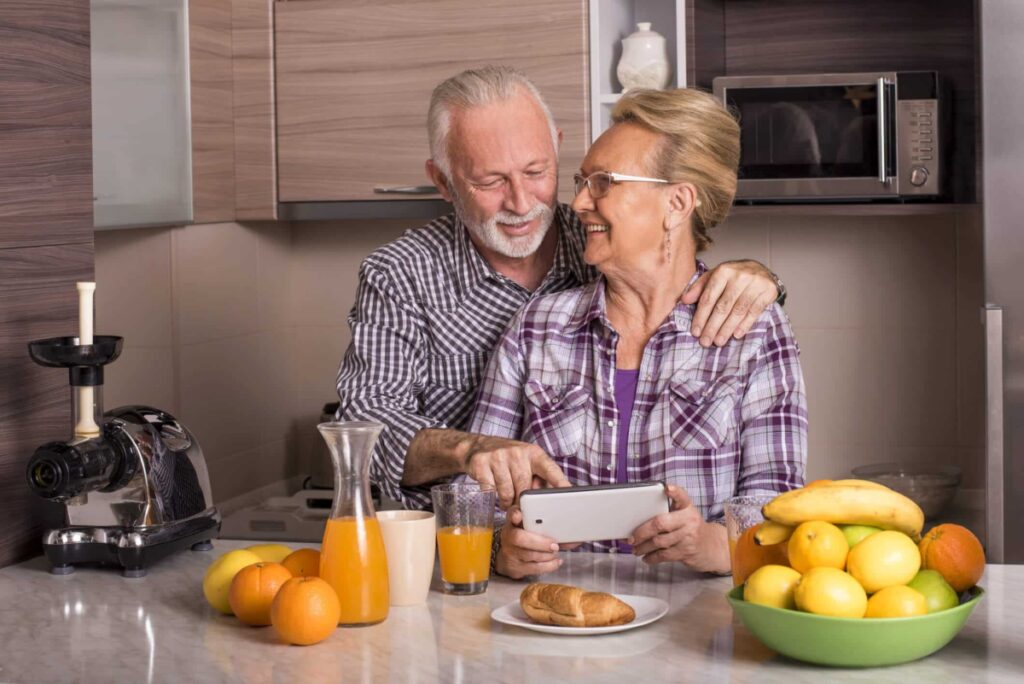 Are you ready to begin living a maintenance-free and active lifestyle while being supported to achieve a high-quality life? If you've been researching or visiting senior living communities, you might be reassured by all the possibilities.
But if you're looking for a home that goes beyond the ordinary to the exceptional, take a moment to consider all that Tenfold's Prairie City Landing has to offer. Your extraordinary retirement life may be closer than you think.
Prairie City Landing's senior living design features that promote quality of living
Prairie City Landing is different from other senior living communities – and it's all by design. We believe that while services, activities and amenities are essential in contributing to a life well lived, physical spaces are the foundation for creating those lives.
Consider the following unique features that you'll discover if you visit our community:
A home that welcomes and nurtures
Residents that choose Prairie City Landing quickly discover a welcoming and spacious home waiting for their next adventure. You'll find beautiful spaces that can provide the type of home that will encourage you to continue living fully.
We offer condominium-style apartments with up to 1,417 square feet of living space. You may choose a floorplan that includes a balcony or patio, while everyone enjoys the natural light that floods through the oversized windows. And if you are part of a couple, there is no charge for the second person.
You'll also enjoy an individual climate control system, weekly housekeeping, emergency response system, maintenance, utilities, cable and full internet. With space to fit your sectional and dining set, you can continue to host family and friends. You'll also appreciate the convenience of storage space, walk-in closets and a full-sized washer and dryer.
A home that supports your needs
Having a beautiful home, getting to know your neighbors and the compassionate staff all contribute to a good life in a senior living community. Your home is a haven of reassurance and comfort. But what happens if help is needed with daily tasks or temporary assistance is required while recovering from an illness or injury? Do you need to move?
Not at Prairie City Landing. You will be able to remain in your independent living home while we discreetly bring the services to you. Not only will our Resident Services Director tailor a plan that meets your needs, you'll have the advantage of receiving help from staff you already know.
Your choice of dining venues
While we provide several spaces that will enhance the quality of your life, our choices for dining delight our residents. You'll have a full-sized kitchen when you decide to create your own culinary magic but you can also take advantage of our chef-prepared delicious and nutritious meals.
You might decide to start your day with coffee at the Rendezvous, our all-day town hall, or meet up with friends and family for a glass of wine before dinner. Our farm-to-table and anytime dining is also available in an elegant white-tablecloth restaurant or our casual café. And you won't want to miss our daily Happy Hours with cocktails, mocktails and snacks.
When the weather turns warmer, there's another choice our families love. How about hosting a BBQ in our outdoor dining area? We provide gas grills for our residents to use and wonderful spaces to enjoy great food and conversations.
Spaces to meet friends and family
Residents enjoy the intimacy of gatherings in their beautiful homes but life is large when you expand your world to the common areas in our community.
Take advantage of our fitness center and the expertise of our in-house fitness director who has created a program focused on health, wellness and mindfulness. You can also learn more about nutrition while building strength, flexibility and balance.
If you'd like to celebrate with family, look no further. Our Club Room offers the space for private parties and catering is available. And if you decide to move the gathering outside, the adjacent patio is ready.
Lifelong learning is easy to accomplish with our educational sessions and residents love our on-site salon, movies and lectures in our state-of-the-art theater and our art studio when it's time to create.
Enjoying the benefits of outdoor life
Spending time outside is good for your body and mind. Taking in the sunshine but having a place to sit when shade is preferred is your choice in our outdoor living room. We have a beautifully landscaped courtyard that invites all of our residents to wander outside, and a welcoming firepit where friends can engage in quiet conversations in the evenings. You'll soon see how we thoughtfully created spaces that are actually an extension of your private residence.
Walking paths throughout the community provide inspiration for movement. For those who love to garden, you'll appreciate the raised planter beds so you can grow your own herbs and vegetables. If you brought along your furry friend, we've thought of them as well. You'll both enjoy the outdoor exercise area while visiting with friends.
Discover Life at Tenfold's Prairie City Landing 
We created Prairie City Landing to support our residents to live their best lives possible. Our community's design, residences, activities and amenities are all focused on helping to connect, engage and create an enriched life.
If you're searching for senior living that is different from the rest, we hope you will consider Tenfold's Prairie City Landing. We're here to answer any of your questions. Contact us to speak to an advisor, or schedule your tour of Prairie City Landing today to experience senior living and our community for yourself.
Are you considering a move to a senior living community for yourself or a loved one? Download our free guide, Family Decision Toolkit: Your A–Z Guide To Choosing The Right Senior Living Community.