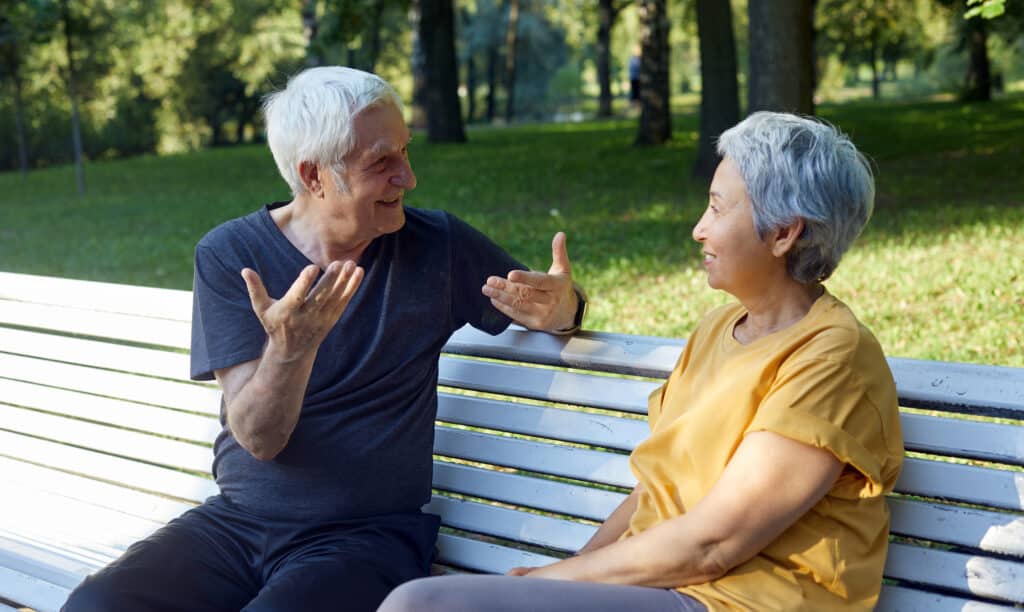 Senior living can provide features needed to live well, but many feel unprepared when deciding if it's the right choice for them. Residents aren't willing to forego the lifestyle they desire in order to receive the services they need.
Growing older can be challenging at times – difficulties in preparing healthy meals, needing assistance with personal care or becoming socially isolated.
But needs being met represents only half of an enriched life. Maintaining independence, enjoying meaningful relationships and remaining engaged are also priorities when making your senior living decision.
9 questions to ask when making a senior living decision
The answers to the following questions can provide guidance but not all communities are the same. You'll want to consider how the features and amenities offered might support living your best life.
Question #1: Is assistance needed with daily tasks?
Many older adults could use a helping hand with the tasks of daily life, such as bathing safely, managing medications or getting dressed. Senior living staff are trained to assist while providing a high level of dignity and support for independence.
Assisted living is a "place" for most communities. But if home is Tenfold's Prairie City Landing, you won't need to leave the familiarity of your Independent Living apartment. Assisted living is not a place but services that are brought to you.
Question #2: Is the home accessible and age friendly?
Is your existing home easily navigated? Or do you live, as so many older adults do, in homes that weren't constructed with aging in mind? When making your senior living decision, you'll appreciate a residence designed to address any mobility challenges.
Accessibility is essential but most older adults want more than zero steps or wide hallways. Tenfold Communities also provide spacious apartment homes that allow for a full-sized dining set and sectional. Residents also love having their own washer and dryer.
Question #3: Are you supported to live independently?
Growing older does not mean you want to sacrifice your independence for an accessible residence. Communities offer help when you need it and services that enhance your lifestyle – but the role they play is to support you to live your best life.
Residents enjoy living independently in Tenfold Communities, knowing there is support, if or when it's needed. When making the senior living decision, they appreciate relationships with family members and friends no longer needing to be those of caregiver or helper.
Question #4: Could you use help preparing healthy meals?
Eating healthy is key to aging well but it's not always easy to plan, purchase the ingredients and then prepare nutritious food. If senior living becomes your new home, you can leave all of that to someone else. All you'll need to do is sit back and enjoy.
Tenfold Community residents never sacrifice their preferences. They enjoy healthy meals but also the refreshing freedom of choosing the setting – between a more formal dining option, a café for casual fare or meeting up with friends at the Bistro.
Question #5: Are you able to stay physically and mentally fit?
Getting to the gym or participating in activities, especially if you're no longer driving, can be a challenge. When making your senior living decision, consider communities that provide fitness classes, as well as stimulating brain games and thought-provoking activities.
Promoting both emotional and physical health, staying in shape at Tenfold is as easy as participating in exercise classes created by our full-time fitness director or taking advantage of nature's beauty and fresh air in our beautifully designed outdoor spaces.
Question #6: Are you able to remain socially engaged?
The opportunity to make new friends couldn't be simpler if you move into a senior living community. You'll discover how much you have in common with the other residents and the planned social events make it easy to meet and get to know others.
It can become more difficult to meet and make new friends but communities such as Tenfold support forming life-long relationships easily and naturally – either at one of the many activities, entertainment events or even crossing paths in our common areas.
Question #7: Do you have access to your favorite activities?
How would you like to live where someone else takes care of all the planning and scheduling of creating fun activities? When making your senior living decision, look for communities that offer a range of choices.
Most communities provide monthly activities, but you'll want to ensure there are several options of interest. At Tenfold Communities, we think outside of the box and our residents help create our choices. Take a look – some may surprise you.
Question #8: Are you still driving?
If you have decided to no longer drive, or are driving less, you'll be happy to know that most communities provide scheduled transportation. You won't need to worry about missing out on attending favorite activities or going shopping.
With Tenfold's transportation, you can leave the driving and the headaches of traffic and parking to others. Residents appreciate not relying on rides from family or friends while still making their medical appointments or joining in with others for fun off-site activities.
Question #9: Is safety and security a growing concern?
Growing older can often cause people more worry about their personal safety – in their home and neighborhood. Your senior living decision should include communities that provide enhanced security features.
Older adults often discover that their homes are no longer safe. At Tenfold, we provide added safety features for both personal residences and the community. Our residents can relax and be reassured that help is always available if needed.
Download our free "Staying Home vs. Senior Living" guide to help you make an informed decision.