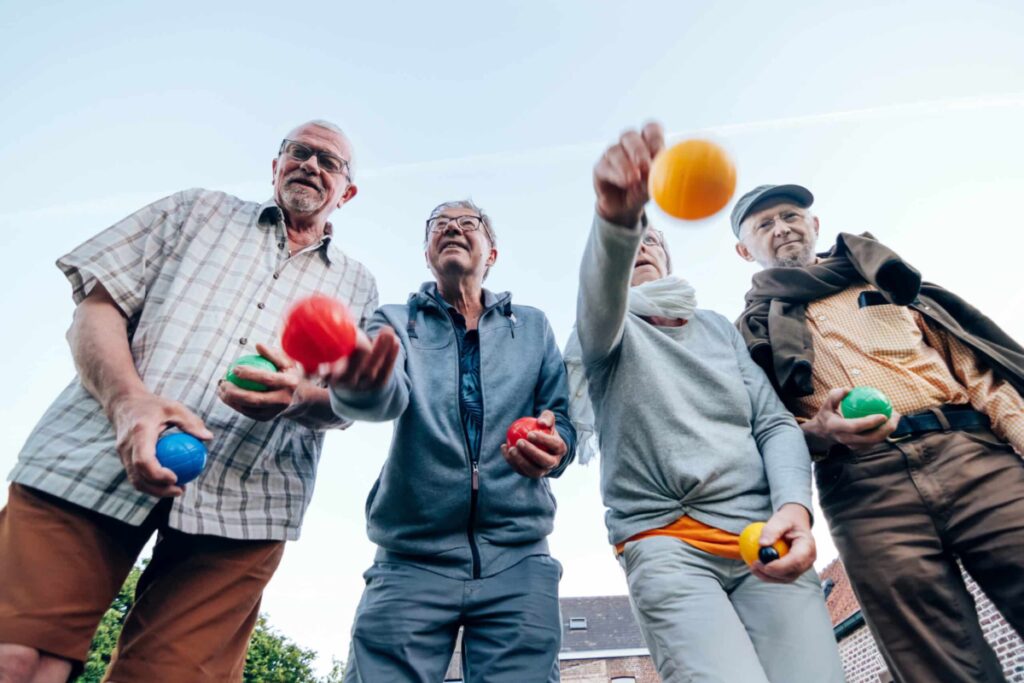 No two people are alike. Individuals hold different preferences and desires – as well as a unique image of the lifestyle they hope to enjoy.
No two senior living communities are alike either.
If you're searching for a new home to launch your retirement lifestyle – one that can support your independence and adventures – you'll want to make sure you find a place that is committed to meeting your expectations.
Differentiating between communities and their residences, activities and philosophies of aging and living well will help you discover the right place to create your new home.
How senior living communities help older adults embrace life
It's not a surprise that many older adults turn to senior living when they are ready for a maintenance-free, activity-filled life over one of homeownership headaches, boredom and increased loneliness or isolation.
However, today's active adults are not willing to sacrifice their independence and voice to achieve this higher level of freedom. And at Tenfold's Prairie City Landing, they don't have to make that choice.
How Prairie City Landing's senior living lifestyle features and programs make all the difference
While many senior living communities provide the basic services, there is much more to life than an accessible residence and healthy dining options. Where can today's retirees discover the place where a high quality of life is possible?
Take a moment to discover the amenities at Prairie City Landing – as well as all of the advantages you may not see in other communities. We think you'll find everything you need to support a lifestyle designed to engage and delight.
A community in the truest sense of the word
Imagine living where you are respected, honored and supported to live your best life. Where neighbors build on the richness of experiences, understanding what you may be facing and are there to cheer you on.
Life becomes so meaningful when you can ask for – and give – help and encouragement. You'll discover opportunities to be useful at Prairie City Landing. Knowing you are a contributing member of the community adds value and depth to life.
A community designed for the individual
Everything that Prairie City Landing offers is based on a strong commitment of providing the highest level of service. Residents are encouraged to remain independent and fulfill their purpose.
From the spacious residences that recognize you haven't downsized your life to the activities tailored to fit your needs and preferences, we have you in mind each day.
A community designed for the entire family
We also recognize that our residents have a circle of family and friends. We see their faces light up when the grandchildren come to visit. At Prairie City Landing, we feel as if we are genuinely a part of the extended family and we encourage visitors as they play such an important role.
When we plan activities and social events, we ensure we invite those who also hold a special place with our residents. Our community is not just for the resident but also for their loved ones.
Activities and adventures that leave Bingo behind
Speaking of activities, Prairie City Landing is known for exploring all there is to offer. We provide our residents a chance to push past the tried, true and often tired typical senior living pastimes.
You'll see what we mean when you take a look at all we have to offer. And we know we have just as much to learn from those who call us home. A delectable example was when one of our residents stepped up and taught our culinary staff how to make her special strudel.
Creating genuine friendships
Joy in life comes through the relationships that we create. Sharing our stories, struggles and celebrations with others gives life meaning. At Prairie City Landing, you'll discover how easy it is to meet and make new friends.
A strong bond is created when you form connections with others who are living with similar experiences. Knowing there are companions who will knock on your door if they don't see you at breakfast is reassuring because you recognize that you are among the greatest of friends.
Opportunities to give back
At Prairie City Landing, we feel strongly about the importance of being able to contribute and be useful. You spent your whole life engaged with others and it should be no different as you grow older. You'll discover many opportunities to volunteer and become involved in activities around the community.
Discover Life at Tenfold's Prairie City Landing 
We created Prairie City Landing to support our residents to live their best lives possible. Our community's design, residences, activities and amenities are all focused on helping to connect, engage and create an enriched life.
If you're searching for senior living that is different from the rest, we hope you will consider Tenfold's Prairie City Landing. We're here to answer any of your questions. Contact us to speak to an advisor, or schedule your tour of Prairie City Landing today to experience senior living and our community for yourself.
Are you considering a move to a senior living community for yourself or a loved one? Download our free guide, Family Decision Toolkit: Your A–Z Guide To Choosing The Right Senior Living Community.