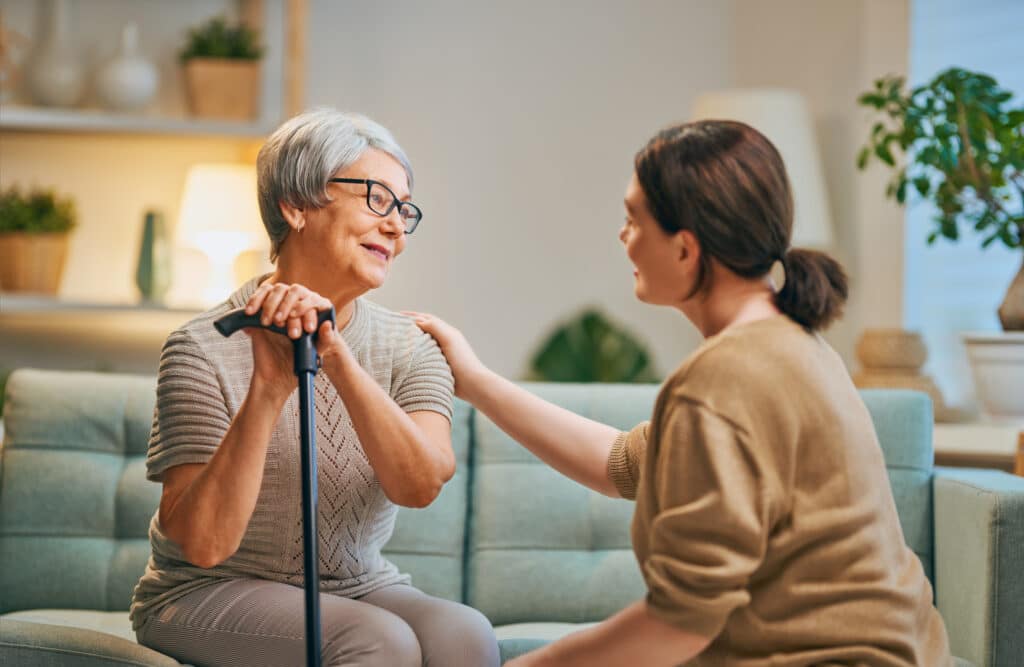 Have you been concerned that your loved one may be denying a struggle with the tasks of daily life? It's not uncommon as older adults often don't want to burden their families. But it is hard to achieve a high quality of life while living with limitations.
One of the great advantages of assisted living is the boost individuals receive to maintain independence in a supportive community instead of having to rely on family and friends. Finding the right assisted living can provide the helping hand that your loved one needs.
The following services and amenities are typically included:
A private residence
Assistance with tasks of daily living
Healthy dining programs
Activities and social events
Fitness and exercise opportunities
Scheduled transportation
Safety and security features
Yet while the basic daily services are similar, families may be surprised to learn there can be a big difference in how they are delivered.
Comparing an Assisted Living Community with Assisted Living as a Service
To help provide clarity, the following summarizes the experience of a typical assisted living resident with one who receives assisted living as a service.
1. The Ability to Remain at Home
Traditional assisted living: If your loved ones made their home in an independent living community and now need assistance for their changing health needs, they will need to pack their belongings and move into a different building or a new community. Adjusting to this change will require additional support as they transition to a new home and area.
Assisted living as a service: At Tenfold's Prairie City Landing community, assisted living services come to the residents – in their homes. Your parents will be able to remain in their independent living apartment, alongside their same neighbors and friends. Adding the stress of another move is eliminated.
2. Familiarity of Community and Staff
Traditional assisted living: Residents quickly become comfortable with their community and the staff that works there. When a move is required to obtain assisted living services, that familiarity is lost. Even if able to remain on the same campus, it can be disruptive to a resident's routine. Moving while dealing with health issues is also stressful.
Assisted living as a service: It is greatly reassuring for residents to know that any needed services will be provided by the familiar and smiling faces of those staff members already known. At Prairie City Landing, the only changes will be for the better as the resident receives the support needed to remain independent and engaged in life.
Discover more information in our Family Decision Toolkit!
3. Discretion and Support for Independence
Traditional assisted living: Many older adults prefer to keep their health needs and issues private. It is a personal matter that they may not wish to share with others outside of their family or close friends. If a move into an assisted living building is required, that discretion is no longer possible.
Assisted living as a service: At Prairie City Landing, our residents appreciate that the services come to them in the privacy of their own apartment – delivered discreetly. Their personal health status remains private and daily life continues as usual except for the decreased anxiety of knowing that help is readily available whenever needed.
Additional Benefits of Prairie City Landing's Assisted Living as a Service
Families and residents alike value the advantages of receiving assisted living as a service while maintaining life in their beautiful and familiar home and community. Consider these additional benefits:
Families can relinquish the day-to-day responsibilities of managing their loved one's care. As a licensed community, we conduct a health assessment of each resident and create a care plan, as well as hire, train and manage the staff.
Caregiver relationships can shift back to the roles of family and friends – allowing them to enjoy once again the time spent together with their loved ones.
Assisted living as a service is available both for the short and long term. If a loved one is ready to be discharged from the hospital after surgery or recovering from an injury but is not yet ready to return home, we can provide assistive services for as long as they're needed.
Tenfold Senior Living is here to help you through your journey to find the best place that fits your needs and those of your loved one. To learn more about our unique "Assisted Living as a Service" approach to providing personalized care to our residents, contact us to speak to an advisor. Or, schedule your tour of Prairie City Landing today to experience our community for yourself.
Are you considering a move to a senior living community for yourself or a loved one? Download our free guide, Family Decision Toolkit: Your A–Z Guide To Choosing The Right Senior Living Community.