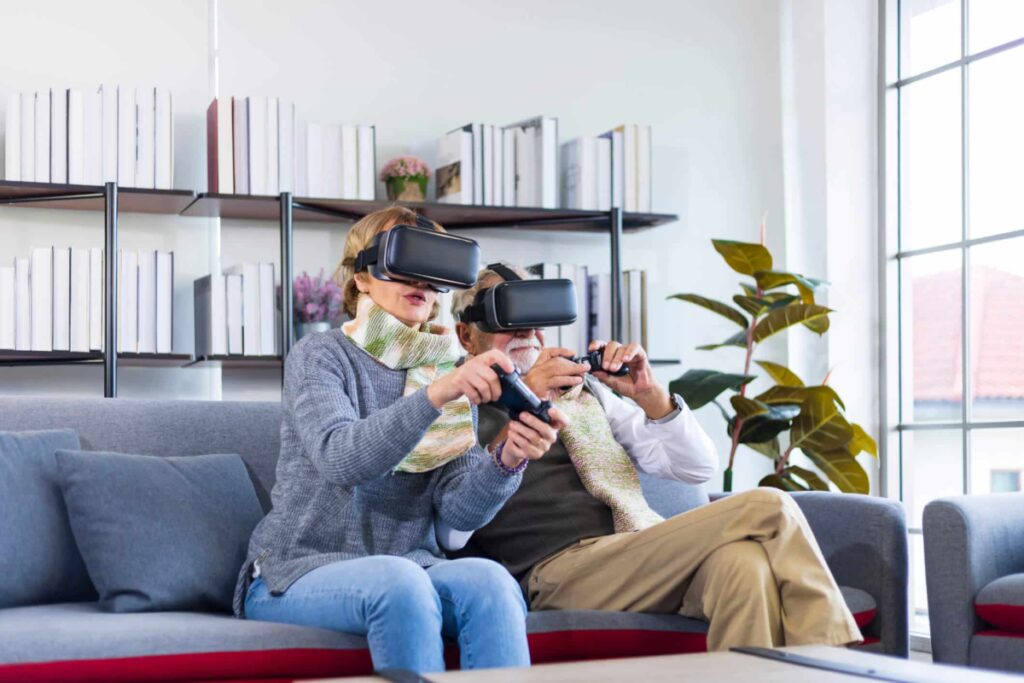 In the past, the center of attention for senior living was on health and safety. The focus today? The resident's well-being, of course, but also the amenities and services that support aging well.
What will the future look like? We don't have a crystal ball, but we do have a clear view of the features required to create a high-quality, personalized and meaningful life.
The Future of Senior Living
Residents will continue to value security and assistance when needed, and similar to today, the priorities of engagement, deeply held friendships and remaining independent will prevail.
Here are the top five possibilities we believe will contribute most significantly to a resident's desired lifestyle.
Five Trends in the Future of Senior Living
1. Support for aging-in-place
The goal of aging-in-place will continue to be set for most older adults. However, individuals won't settle for limitations their existing home may create and will search instead for the most supportive environment.
While residents appreciate top-of-the-line services and amenities, they'll first want flexibility that allows for individual preferences to be accommodated. Tomorrow's senior living residents will want a partnership to help create their best life – not a cruise ship experience where everything is done for them.
At Prairie City Landing, our philosophy has already accounted for these future prerequisites. We provide the opportunities to support the individual's lifestyle choices and then stand ready to assist if called upon.
2. Not a one-size-fits-all model
"Is it right for me"? This is the number one question residents ask when considering senior living communities. Rejecting any cookie-cutter models, Prairie City Landing is ready for the residents of today and tomorrow.
For example, we've put together a dynamic Events and Adventures team that includes input from those who live in our community. The result? Activities that are unique, bring a sparkle to the eye and may even surprise you.
Recognizing that many of our residents may have been eating prepared foods alone before making their home at Prairie City Landing, we also created a dining experience that reaches far beyond nutrition.
Chef-prepared meals from the many menu selections are only the beginning. We offer three separate venues that provide the perfect environment and gratification of once again sharing not only food but life and laughter.
3. Amazing technological advances
There can be no conversation regarding the future without including the role that technology will play. Residents will be drawn to those communities who understand the advantages and advances it brings.
Technology will continue to deliver first-class communications and connection possibilities. Residents will benefit from a community's infrastructure that provides the convenience of smart homes and simplifying daily tasks.
The residents of today and tomorrow are tech savvy. The future will reveal what Prairie City Landing has known all along – that providing assistance to support their residents to take advantage of the latest offerings will open up a world of possibilities.
4. Essential in-person connections
While technology can be a valuable partner in helping residents connect to others and the larger community, Prairie City Landing recognizes that the personal touch is still essential.
A face-to-face conversation, the encouraging squeeze of a hand or seeing a familiar smile connects the residents, their families and the staff. Communities provide excellent opportunities to optimize wellness through the personal interactions created.
Our staff and residents build genuine relationships that are based on respect and trust. Our hiring and training processes result in the highest level of personalized services for both our residents and their families.
5. Recognizing the essence of wellness
We know there is much more to life than healthy nutrition, exercising and keeping in shape and that is why we didn't stop at offering excellent dining, fitness opportunities and adventurous activities.
At Prairie City Landing, we believe there are inherent needs in each of us, that when met provide the foundation of a life that is truly well lived. That is why we created our philosophy of YUSM: feeling YOUTHFUL, staying USEFUL, being SPONTANEOUS and remaining MOBILE.
Imagine living where you are excited once again for the day to begin and to actively contribute to your community while having the freedom to make daily choices about what you want to do and when you want to do them. Experiencing these elements while being supported to remain mobile and active will launch your new life. And if you make Prairie City Landing your home – you won't have to wait for the future to enjoy them.
Discover Life at Tenfold's Prairie City Landing 
We created Prairie City Landing to support our residents to live their best life possible. Our community's design, residences, activities and amenities are all focused on assisting them to meet their lifestyle and wellness goals.
From the first moment you visit a Tenfold community, we believe you will immediately recognize what makes us different.
Discover your home
Our spacious apartments with full-sized kitchens will welcome you home and encourage you to continue living life to the fullest. And if your health changes in the future, there is no need to move. We are also licensed to offer assisted living services and we provide care discreetly in your apartment.
Discover amazing spaces
Meet up with friends and family in our beautiful and inviting gathering spaces, stay in shape in our gym and fitness classes, enjoy our outdoor patio, firepit and raised garden planters, visit the exercise area for dogs and cats, our state-of-the-art theatre and art studio.
Discover events and adventures
You'll learn we're a little out of the ordinary with our activities, such as beekeeping, paddleboarding, culinary lessons, drum circles, wine pong, Paws on the Patio – with chef prepared treats, guys night out and we even have a bikini car wash fundraiser.
Discover the YUSM lifestyle
We believe the highest quality of life is created when our residents are supported to feel YOUTHFUL, stay USEFUL, be SPONTANEOUS and remain MOBILE. You'll see evidence every day in how our care, services and amenities are all influenced by the strong philosophy we created that we call YUSM.
We hope you'll visit Prairie City Landing, where you'll discover we're a different style of senior living – and it's all by design. Contact us to speak to an advisor, or schedule your tour of Prairie City Landing today to experience senior living and our community for yourself.
Are you considering a move to a senior living community for yourself or a loved one? Download our free guide, Family Decision Toolkit: Your A–Z Guide To Choosing The Right Senior Living Community.