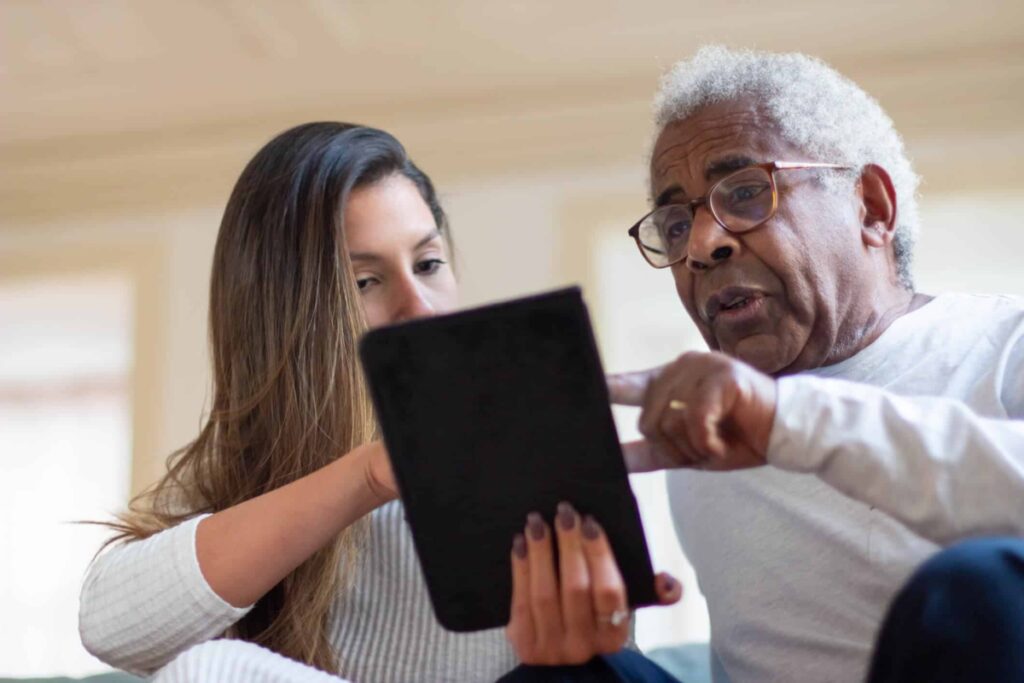 You love your independent living community. With its wide variety of activities, meaningful friendships and delightful staff, you revel in the autonomy. But then, your health needs change.
Perhaps it has become more difficult to bathe or get dressed. Maybe it's now a challenge to prepare healthy meals or you might be recovering from a recent surgery or illness and need assistance.
Although these changes are manageable, you discover your independent living community doesn't provide the services to help. Instead, you will have to move into an assisted living community. That means leaving your home, friends and the affection of a life so well loved – unless your independent living home is at Prairie City Landing.
Defining Assisted Living as a Service
At Prairie City Landing, we created a community to support our residents to achieve their goals and live a high quality of life. One area where this is apparent is how we designed our assisted living as a service – not as a place.
When our residents realize their health needs have changed and they could use a helping hand, they don't have to move. They also aren't required to say goodbye to friends and staff or arrange to relocate to another community. They keep the familiarity of everything they love about Prairie City Landing because we bring the services to them.
Assisted Living Services Delivered in Your Independent Living Home
Imagine the comfort of knowing you can remain in your beautiful and spacious home while assistive services are delivered discreetly to you. Take a moment to review the unique experience you'll discover:
1. We provide an assessment and care plan
Families won't need to determine what type of assistance a loved one might need for either a health or personal care issue, whether short or long term care is required and how to provide the best response.
As a licensed community, Prairie City Landing conducts a health assessment and creates a care plan to fit the individual's needs. We also revisit this plan and make revisions when necessary.
2. We provide the care team
Families are often left to find the community or reputable services they hope will match well with their loved one's needs. Which means they become care managers and take on the responsibilities of ensuring their parent is receiving quality care. At Prairie City Landing, we oversee the process.
3. We manage your loved one's care
Families whose loved ones make their home in our community happily discover they can relinquish the duties of care management and return once again to the role of son or daughter. Their parents also appreciate spending time sharing conversations and enjoyable activities instead of feeling like they are always asking for help.
An added bonus you'll discover: residents often feel more independent when they partner with our compassionate care team instead of needing to rely on family or friends.
The Philosophy of Assisted Living as a Service at Prairie City Landing
People deserve to live life without the risk of disruption just because their health needs change. The familiarity of friends and community can greatly influence quality of life. We don't believe our residents should have to experience the added stress of leaving this behind to deal with a health issue.
At Prairie City Landing, we encourage our residents to create their best lives. From our residences, dining programs, activities and assisted living support – our goal is to help them continue to make it happen.
Discover Life at Tenfold's Prairie City Landing 
We created Prairie City Landing to support our residents to live their best life possible. Our community's design, residences, activities and amenities are all focused on assisting them to meet their lifestyle and wellness goals.
From the first moment you visit a Tenfold community, we believe you will immediately recognize what makes us different.
Discover your home
Our spacious apartments with full-sized kitchens will welcome you home and encourage you to continue living life to the fullest. And if your health changes in the future, there is no need to move. We are also licensed to offer assisted living services and we provide care discreetly in your apartment.
Discover amazing spaces
Meet up with friends and family in our beautiful and inviting gathering spaces, stay in shape in our gym and fitness classes, enjoy our outdoor patio, firepit and raised garden planters, visit the pet exercise area, our state-of-the-art theatre and art studio.
Discover events and adventures
You'll learn we're a little out of the ordinary with our activities, such as beekeeping, paddleboarding, culinary lessons, drum circles, wine pong, Paws on the Patio – with chef prepared treats, guys night out and we even have a bikini car wash fundraiser.
Discover the YUSM lifestyle
We believe the highest quality of life is created when our residents are supported to feel YOUTHFUL, stay USEFUL, be SPONTANEOUS and remain MOBILE. You'll see evidence every day in how our care, services and amenities are all influenced by the strong philosophy we created that we call YUSM.
We hope you'll visit Prairie City Landing, where you'll discover we're a different style of senior living – and it's all by design. Contact us to speak to an advisor, or schedule your tour of Prairie City Landing today to experience senior living and our community for yourself.
Are you considering a move to a senior living community for yourself or a loved one? Download our free guide, Family Decision Toolkit: Your A–Z Guide To Choosing The Right Senior Living Community.